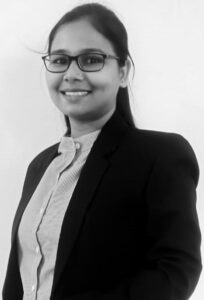 Introduction:
Smita is a Branch Manager at SKGY Mumbai. She has more than 5 years experience in accounting , taxation, statutory audit, Payroll and business consultancy.
Prior to joining SKGY, Smita was associated with Axis bank as an Deputy manager in Credit underwriting.
She start her professional career with a Mumbai based reputed Chartered Accountant firm as a Manager in accounting.
During her professional career of more than 5 years, she has served various industries and organization in the field of accounting, direct taxation, indirect taxation and audits. Her area of expertise are :
– Accounts finalization & financial reporting
-Indian direct Tax planning and Tax management
– Payroll
– GST Compliance and GST audit
– Statutory audit of companies
– Statutory audit of banking companies
– Statutory audit of insurance company
– Compliance with scrutiny and assessment procedures
Over the course of her professional career, Smita has focused on delivering engagements in the Banking, Financial institutions, Education institutions, transport industry and other service industries.
Background and Interests/Professional Affiliations:
Smita is a qualified Associate Chartered Accountant (ACA) and member of ICAI.